Is study gap acceptable in canada for 2021?
Study Abroad 13.6K Views
#study-abroad
#study-abroad-programs
#study-abroad-scholarships
#study-overseas
#study-in-canada
---
Is the Study gap acceptable in Canada for 2021?
This is a burning question when you plan to study in Canada or for that matter any country.
You must be wondering what happens to my application if there is a gap in my study.
Let's Go Deep Into The Problem and Understand what is considered as Gap and How We can Tackle this problem.
To know about universities in Canada
Fill this form so that we can help you sort out the gap problem


What is the study gap?
When we plan to file a study visa for any country this is a general and most important question which is asked by you, How long is the gap in your study or is there even a gap.
So Gap is a duration between your last qualification and to date.
Many students take a year off after 12th for Government exam preparation or for JEE or Medical or they even fail in their first year of study or you might be engaged in some work post your studies.
So this is exactly what is defined as a GAP.
Now the question arises,
is a Study Gap Acceptable in Canada?

If you are applying for new study permits in Canada, Colleges or Immigration can question the study gap. A very long study period may prove to be a challenge for the college to accept you. The Canadian education system is Quite flexible enough to allow it.
The study gap of up to 2 years is acceptable for Undergraduate and Diploma applicants and the study gap up to 5 years is acceptable for postgraduate applicants. There are a few exceptions to a few students who have shown their field of study exceptional expertise.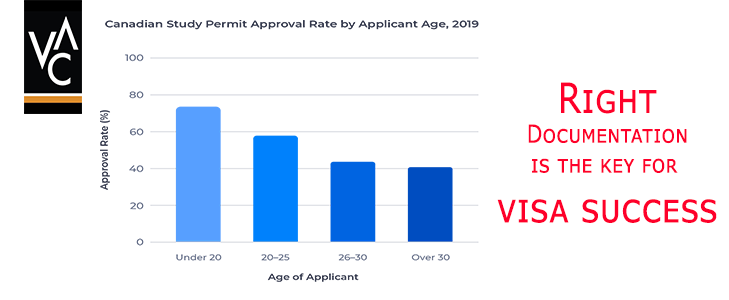 How We Can Fix The Study Gap for Canada?
If you have some work experience then as proof of your study gap you can show it to university and immigration.
Documents that works as a fillers of study GAP:
Wage Slips
Letter of Appointment
Admission Letter of University or College in India.
Marksheet and Diploma or any short course done in India.
PGDM Course Available in Canada 2021
Management Courses Available in Canada 2021
Canada is a very welcoming country for International Students and the education system is quite unique in its own way. Having practical experience in India is an added advantage for any student going there for higher studies.
Studying in Canada needs to be planned well in advance and the right guidance is something that you would require at every step.
Documents Required for Visa to Study in Canada:
Educational Documents
Passport
IELTS (6.5 for PG and 6 for UG)
COE
Medical
SOP
Gap Justification if Necessary
Immigration/Embassy Forms
Once we have collected all these documents and have covered our gap nicely then we don't think there would be any problem getting the Study permit of Canada in 2020.
The gap is not an issue if it is because of the genuine reason and you were doing something productive within that time.
All you need to take care of is that your case is well represented before the college and the Embassy of Canada.


As you know, studying in Canada requires a study permit. Once they arrive in Canada, this study permit is issued to students. To acquire the study permit the student must first apply for a temporary resident visa provided by the Canadian High Commission. The study permit for Canada costs CAD $150 which is around INR 7,465. The applications are available both offline and online. This fee is to be paid when the application is submitted or a fee receipt of online payment is given.
You can give us a call in order to discuss your study gap. We would be more than happy to assist you :)
---
Find this page useful? Spread the word!
---