Universities in Canada
The top 5 Universities of Canada
University of British Columbia

This University is one of the most renowned universities in not just Canada, but the world. Ranking among the top 40 Universities in the world, the University is setting milestones in teaching and research every day. One of the best University campuses, the university is based in Vancouver.

It also has one of the highest recognition among jobs and hiring companies.

University of Alberta

This university is one of the best research institutions in the world. Particularly famous for the departments of Computer Science, Technology and Chemistry, the university frequently ranks among the best in the world. The crowd is culturally diverse and the university has a great environment with intelligent and polite students. While the weather isn't ideal in winters, there are underground heated passageways in the University so you almost don't have to step out of the University premises in the cold.

- Curtin University
- The university of Western Australia
- Edith Cowan University
- Murdoch University
- The University of Notre Dame

The University of Waterloo

Located in the city of Waterloo in the state of Ontario, The University of Waterloo is one of the finest Universities in Canada. Highly respected in the fields of Engineering and Mathematical related courses, even more so in post graduate studies.

The University has a reputation for very learned and helpful teachers, along with a comparatively low tuition fee.

Simon Fraser University

The SFU is one of the biggest Universities in Canada. Having three campuses in Vancouver, the university has some outstanding infrastructure. The university is also famous for some not-so-common courses, like Film study, Communication, Interactive arts, Criminology, etc!

The university also offers a number of international exchange programs.
SDS : The Study Direct Scheme
The SDS is basically a scheme, which allows an easy process of admissions for international students in Canadian Universities. The SDS is valid for international students from four countries with the3 most international intakes for the Canadian Universities: Philippines, Vietnam, China & India.
The Scotiabank – a leading Canadian financial institution supports this program and enables the students to purchase a Guaranteed Investment Certificate (GIC). This certificate is worth $20,000 and it covers all the living expenses (except the tuition fee) of living in Canada for the first year of studying.
SDS Member Colleges

Sheridan College Institute of Technology & Advanced Learning- Oakville – Ontario
Seneca College of Applied Arts & Technology- Toronto – Ontario
Sault College- Sault Ste. Marie, Ontario
Northern College- South Porcupine – Ontario
Niagara College- Welland – Ontario
Mohawk College of Applied Arts & Technology- Hamilton – Ontario
Loyalist College of Applied Arts & Technology- Bolleville – Ontario
Lawrence College- Kingston – Ontario
Lambton College of Applied Arts & Technology- Sarnia – Ontario
Humber College Institute of Technology & Advanced Learning- Toronto – Ontario
Georgian College of Arts & Technology- BARRIE – Ontario
George Brown College- Toronto – Ontario
Fleming College- Peterborough, Ontario
Fanshawe College of Applied Arts & Technology- London – Ontario
Durham College- Oshawa – Ontario
Confederation College of Applied Arts & Technology- Thunderbay – Ontario
Conestoga College- Kitchener – Ontario
Clair College of Applied Arts & Technology- Windsor – Ontario
Centennial College of Applied Arts & Technology-Toronto Ontario
Canadore College -North Bay, Ontario
Cambrian College of Applied Arts & Technology- Sudbury – Ontario
Algonquin College- Ottawa – Ontario


List Of SDS Colleges In British Columbia

Every year, thousands of International students from different countries come to British Columbia for their higher education. If you are planning to study here, then we have a List Of SDS Colleges In British Columbia. You can choose your specific college from this list.

Camosun College-Victoria- B.C
College of New Caledonia- Prince George – B.C
College of the Rockies- Cranbrook, B.C
Columbia International College- Vancouver – B.C
Douglas College- New Westminster – B.C
Kwantlen Polytechnic University- Surrey – B.C
Langara College- Vancouver- B.C
North Island College- Vancouver Island – B.C
Northern Lights College – Dawson Creek – B.C
Okanagan College- Salmon Arm – B.C
Selkirk College- Castlegar – B.C
University of the Fraser Valley – Abbotsford – B.C
Vancouver Community College-Vancouver- B.C
Vancouver Island University – Nanaimo – B.C

List Of SDS Colleges In Alberta

The administration of Alberta has the exclusive authority to make laws respecting education. This province of Western Canada is the house of various technical institutions, regulate universities, colleges and other educational forms and institutions. Where the list of SDS Colleges in Alberta is provided below:

Bow Valley College-Calagary – Alberta
Lakeland College- Vermillion – Alberta
Medicine Hat College- Alberta
Norquest College- Edmonton – Alberta
Northern Alberta Institute of Technology- Edmoton, Alberta

The list of SDS Colleges in Manitoba (Govt.)

Choosing Manitoba your Study Destination is an excellent choice, it will help you to meet your education goals. This is a place from where you can get the world-class education at an affordable price.

Assiniboine Community College- Manitoba
Manitoba Institute of Trades and Technology- Winnipeg – Manitoba
Red River College of Applied Arts, Science & Technology- Winnipeg – Manitoba


List Of SDS Colleges In Saskatchewan (Govt.)

There are numerous, world-class publicly-funded, government-recognized SDS colleges are located in Saskatchewan that attract a large number of international students from different countries around the world.

Parkland College-SASKATCHEWAN
Saskatchewan Polytechnic- SASKATOON

SDS Colleges In Quebec (Govt.)

In this province of Canada there is only one SDS College, which is Lasalle College. But still, because of the word Class education of this college, this province has a name in the world of education.
SDS Program requirements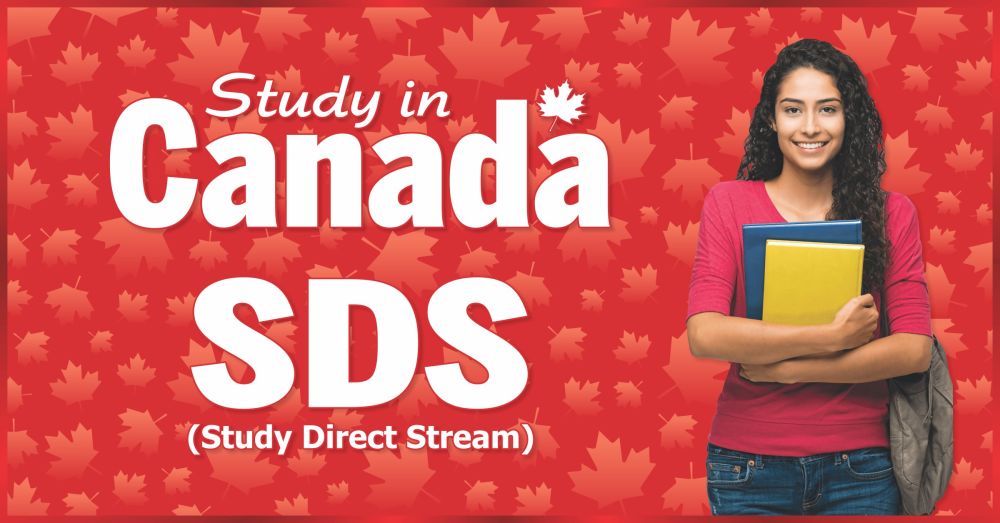 If you want to apply for studyin in Canada under the SDS program, here are all the requirements that you need to meet for it:
You need to have taken admission in a full-time program in a public funded College/University in Canada
You need an IELTS score of minimum 6 bands in all of the four abilities (reading, writing, speaking and listening)
Purchase of a GIC (Guaranteed Investment Certificate) worth $10,000 to cover your living expenses for a year.
You need to pay the tuition fee for one year and provide the proof
You need to go through an upfront Medical Examination a week before the application submission.
---
Why Choose VAC Global Education?
VAC Global Education is one of the finest study abroad consultancies in Delhi NCR. Over the years we have been setting benchmarks in our field, providing the best counseling and assistance in foreign education for Indian students. May it be Australia, Canada or New Zealand, VAC Global Education is here for all your foreign education needs.
Now that you have decided that you want to study in the fantastic country of Canada, how do you get there? VAC Global Education provides you with the path to achieve this dream. You just passed class 12th or graduation or even post graduation, we will help you find a way to your dream course in Canada.
Our process is simple yet highly efficient. For starters, we provide you with detailed and comprehensive career counseling, where we help you choose the right course and university for you, depending on your eligibility and interests. Once chosen, we help you be ready for your admission. We also provide you with the best IELTS coaching to ensure a smooth immigration into Canada. We then help you through the process of VISA and immigration also. Be it Vancouver, Toronto, Ottawa or whatever city your university is in, we assist you in finding accommodation and help you settle down as well. Even after the whole process, you can always contact us for any queries you may face in a foreign land.
These are the reasons why you need a foreign education consultancy, especially VAC Global Education when applying to study abroad. You can find out more about us and our team here.